Fettuccine With Shiitakes in a Saffron Cream Sauce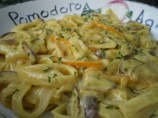 Photo by breezermom
Prep Time: 5 mins
Total Time: 25 mins
Servings: 4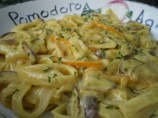 Photo by breezermom
About This Recipe
"This recipe has the most amazing saffron sauce! Although it calls for shiitake mushrooms, I've made this with Oyster mushrooms and it is equally good, but you need to add some color. Red or orange bell pepper, julienne usually does the trick. Portobellas are good too. I always reduce the amount of heavy cream in this (by half!). If you don't have fettuccine, this is really good with bowtie pasta. An oaky chardonnay goes well with this. From Food & Wine, Pasta."
Ingredients
3/4 lb fettuccine

1 1/2 cups dry white wine

1 teaspoon saffron thread, lightly packed

2 tablespoons olive oil

4 tablespoons butter

4 shallots, chopped ( or use red onion)

1/2 red bell pepper, julienne (optional)

1 1/2 lbs shiitake mushrooms, stems removed, caps sliced

1 teaspoon salt

1/4 teaspoon black pepper

2 cups heavy cream ( I reduce this to 1 cup or less)

1/4 cup grated parmesan cheese ( I use more)

1/4 cup flat leaf parsley, chopped
Directions
Bring a large pot of salted water to a boil.

Meanwhile, bring the wine to a boil in a small saucepan and add the saffron. Remove from heat and let it infuse for 5 minutes.

Add the pasta to the boiling water and cook for 12 minutes, or until the pasta is just done.

While pasta is cooking, heat the oil and butter in a large frying pan over medium heat. Add the shallots, mushrooms, peppers (optional), salt and pepper. Cook until very lightly browned, about 5 minutes.

Add the wine and saffron and boil for 2 mintues.

Add the cream, bring to a boil, reduce heat and simmer until slightly thickened, about 2 minutes.

If, like me, you reduced the volume of cream, the sauce may be runny. Make a slurry with a tablespoon of flour in two tablespoons water. Stir into the sauce and simmer until slightly thickened.

Drain the pasta. Toss it with the sauce, parmesan and parsley. Serve immediately in large pasta bowls.