Granola Trifle With Greek Yogurt and Berries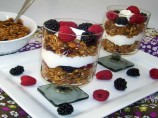 Photo by Cooking Creation
Prep Time: 15 mins
Total Time: 1 hr
Servings: 4-6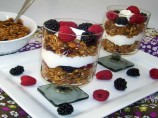 Photo by Cooking Creation
About This Recipe
"The delicious crunchy granola paired with the rich, creamy yogurt and sweet berries is absolutely divine! You can make the granola in advance, which makes this perfect for serving to guests. Simply assemble the trifle and be ready to impress. The granola can be stored in an air-tight container for up to one month."
Ingredients
1 1/2 cups rolled oats

1/2 cup chopped nuts ( I use almonds)

1/4 cup oat bran

1/4 cup flax seed

1/4 cup salted sunflower seeds

2 tablespoons sesame seeds

2 tablespoons brown sugar

1/2 teaspoon ground cinnamon

1/4 teaspoon salt

1/4 cup vegetable oil

1/4 cup unsweetened applesauce

2 tablespoons maple syrup

2 tablespoons honey

1/2 teaspoon vanilla

1/3 cup dried fruit ( I use Craisins)

greek vanilla yogurt, to taste

fresh berries, to taste
Directions
Preheat oven to 300 degrees.

In a large bowl, combine the rolled oats, nuts, oat bran, flax seed, sunflower seeds, sesame seeds, brown sugar, cinnamon and salt.

In a separate large bowl, whisk together the vegetable oil, applesauce, maple syrup, honey and vanilla.

Combine the dry ingredients with the wet ingredients. Spread onto a lightly greased baking sheet. Bake for 45 minutes, stirring every 15 minutes.

Pour the granola in a large bowl and stir in the dried fruit. Allow it to cool.

Spoon the granola in the bottom of a mini trifle bowl. Add a few berries and dollop yogurt on top. Repeat and top with berries.

Enjoy!