Cranberry Orange Rugelach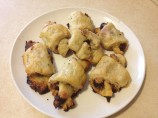 Photo by DrGaellon
Prep Time: 20 mins
Total Time: 50 mins
Serves: 24, Yield: 4 dozen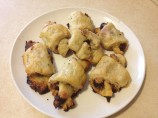 Photo by DrGaellon
About This Recipe
"These are an Eastern European cookie with cream cheese in the dough. Be sparing with the cinnamon and nutmeg so as not to overwhelm the other flavors. Adapted from Serious Eats. http://bit.ly/ZkCXyA"
Ingredients
Filling

3/4 cup walnuts

1 cup dried cranberries

1 tablespoon grated orange zest

1 pinch kosher salt

1/8 teaspoon ground cinnamon

1/16 teaspoon grated nutmeg

1/4 cup white sugar

Dough

10 ounces all-purpose flour ( 2 cups)

1/2 teaspoon table salt

2 tablespoons white sugar

8 ounces cold cream cheese, diced

1/2 lb cold butter, diced ( 2 sticks)

Glaze

3 tablespoons apricot preserves

1 tablespoon orange juice

Topping

1 large egg

1 tablespoon water

1 tablespoon sugar

1 pinch cinnamon
Directions
In a food processor, process walnuts until finely chopped, about 10 1-second pulses. Combine with remaining filling ingredients in a small bowl and set aside.

In food processor, combine flour, salt, and sugar. Pulse twice to combine. Add cream cheese and butter. Process until mixture resembles coarse meal and almost begins to hold together. Turn out onto a floured surface and knead until it forms a cohesive mass. Cut into 4 equal pieces. Form each piece into a ball, then flatten into a disc. Wrap each piece in plastic and refrigerate 1 hour.

Preheat oven to 350F and line two baking sheets with parchment or Silpats. Combine apricot preserves with orange juice. Microwave 30 seconds or until thin enough to spread.

Working with one disc at a time on a floured surface, roll out into a 9" circle. Brush with 1 T apricot mixture, then sprinkle with 1/4 cranberry mixture (if using a scale, this should be roughly 2 1/2 ounces). Using a long knife or pizza wheel, cut disc in quarters, then cut each quarter into 3 equal pieces. Starting from the wide end, roll each piece up, pressing lightly to seal. Place cookies, point side down, on prepared baking sheets. Repeat with remaining dough and filling. Cover sheets with plastic wrap and refrigerate for 30 minutes.

Beat egg with water. Stir cinnamon into sugar. Remove sheets from oven. Brush cookies with egg wash and sprinkle with cinnamon sugar. Bake cookies in center of oven until golden brown, about 15 minutes. Let cool 5 minutes before transferring to a rack. Store uneaten cookies (!) in an airtight container at room temperature up to 5 days.