Salmon Stir Fry With Dill and Green Onion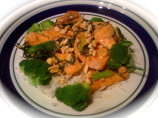 Photo by Emma Pham
Prep Time: 1 hr 4 mins
Total Time: 1 hr 12 mins
Serves: 2, Yield: 2 plates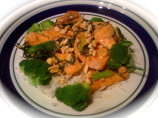 Photo by Emma Pham
About This Recipe
"New taste of Salmon! Delicious!"
Ingredients
2 salmon fillets, skinless and cut into small squares

1 1/2 teaspoons hoisin sauce

1/4 teaspoon five-spice powder

1/3 teaspoon fish sauce

1 pinch salt

1 pinch black pepper

1 teaspoon toasted sesame oil

1/3 teaspoon turmeric powder

1 teaspoon lemon juice

1 shallot, chopped

1 bunch dill, and cut into 2 inches lengths

1 bunch green onion, cut into 2 inches lengths

1/3 cup roasted peanuts, grind not too mince

3 tablespoons olive oil
Directions
Step 1: Marinated salmon with salt, fish sauce, horsin sauce, five spice, lemon juice, black pepper,turmeric powder sesame oil into a medium bowl. Chill in fridge up to 1 hour.

Step 2: Heat a pan with oil and place shallot. Cook until shallot get brown then add salmon on. Cook at medium high heat about 5 minutes then add dill and green onion. Cook another 3 minutes or until salmon done.

Step 3: Place salmon in a plate and garnish with grind peanut.

Serve pipping hot. Serve with white rice or brown rice!

Serve 2.