Mama DiSpirito's Meatballs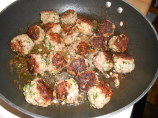 Photo by linguinelisa
Prep Time: 30 mins
Total Time: 1 hr 30 mins
Serves: 8, Yield: 36 Meatbals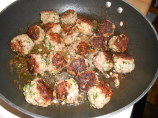 Photo by linguinelisa
About This Recipe
"I found this recipe in the Seattle Times May 12, 2004. We made them that weekend and loved them so good!"
Ingredients
1/2 cup chicken stock

1/2 large sweet onion

4 garlic cloves, peeled

1/2 bunch parsley, stemmed and coarsest chopped

1 lb ground beef

1 lb ground pork

1 lb ground veal

1/2 cup breadcrumbs

2 -3 large eggs

1/2 cup parmigiano-reggiano cheese, grated

2 -3 pinches red pepper flakes

2 -3 pinches salt

olive oil ( for frying)

4 cups marinara sauce
Directions
1. For the seasoned stock: place chicken stock, onion, garlic, and parsley in food processor and purée until smooth.

2. Prepare meatballs: in large bowl, combine meats bread crumbs, eggs, cheese, red pepper flakes, and salt with the stock. Mix well until mixture is uniform. Add another egg if mixture doesn't seem to hold together well. Do not over mix. With lightly oiled hands, form mixture into balls a little larger than a golf ball.

3. Pour about 1/2 an inch of extra virgin olive oil into a straight-sided, wide sauté pan and heat over medium high heat. In a separate large sauce pan heat marinara sauce.

4. Working in batches, add meatballs to the oil and brown, turning once. Using slotted spoon, remove the meatballs from the oil and place them into sauce pan of marinara. They should be submerged. Cover and simmer for 30 minutes or until the meatballs are cooked through and tender.

5. Serve alone or with spaghetti (if serving with spaghetti increase the amount of marinara to 6 cups).