Thanksgiving Cranberry, Rhubarb, Cherry, Chestnut Chutney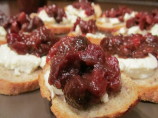 Photo by Rita~
Prep Time: 20 mins
Total Time: 1 hr 20 mins
Yield: 8 cups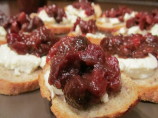 Photo by Rita~
About This Recipe
"This Tangy Thanksgiving Chutney is a mixture of Rhubarb, red onions, apples, chestnuts, cranberries, dried cherries with brown sugar, balsamic and spices. Use as a condiment with meat or poultry. Spread inside a left over turkey sandwich. Served over warmed crumbled goat cheese or creamy brie on top of toasted bread, it makes an elegant holiday hors d'oeuvre for the holidays."
Ingredients
12 ounces frozen cranberries or 12 ounces fresh cranberries, 3 cups

2 medium gala apples, 8 ounces or 2 cups diced apples

1 lb rhubarb, trimmed and cut into 1/2 inch pieces

7 ounces chestnuts ( From the jar is easy)

6 ounces dried cherries ( 1 cup diced)

8 ounces red onions, thinly sliced ( 2cups sliced)

1 cup light brown sugar

1/3 cup balsamic vinegar

1/4 cup finely chopped crystallized ginger ( 2 ounces)

1/2 teaspoon allspice

1/4 teaspoon ground cardamom

1 pinch ground cloves

1 cinnamon stick

2 teaspoons fresh thyme

1 1/2 teaspoons salt

fresh ground pepper
Directions
In a large stainless steel pot add all the ingredients.

Bring to a boil for 5 minutes stirring often then reduce heat to simmer.

Let the chutney simmer – uncovered – for 1½-2 hours.

Stirring frequently while cooking.

Jar and chill or process in a water bath for longer shelf life.