Spiced Oranges & Raisins (Al Burtugal Wal Zabib Al Mutabal -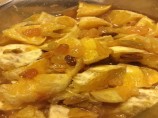 Photo by Ayo O.
Prep Time: 15 mins
Total Time: 25 mins
Servings: 4-6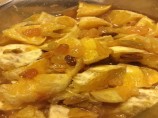 Photo by Ayo O.
About This Recipe
"This is a delightful fruit dessert topping that I found on Tour Egypt. I think it would be marvelous on a simple bread pudding as well as the suggested ice cream or cake. Use your imagination :D"
Ingredients
1/2 cup granulated sugar

1/2 cup water

2/3 cup golden raisin ( Sultanas )

2 tablespoons lemon juice

2 cinnamon sticks

1/2 teaspoon allspice

1 tablespoon minced crystallized ginger

1/2 teaspoon vanilla

3 large oranges
Directions
Combine the sugar and water in a small saucepan and bring to a boil.

Add raisins, lemon juice, cinnamon sticks, allspice and ginger.

Simmer over medium heat about 10 minutes until syrup is thickened. Remove from heat and stir in the vanilla.

Transfer to a bowl and refrigerate 10 minutes.

Cut peel and pith from oranges.

Slice oranges into 1/2 inch rounds.

Cut rounds into halves or quarters and place in medium bowl.

Pour cooled raisins and syrup over oranges and stir gently.

Chill 2 hours or overnight.Serve over ice cream or cake.