Rancho-Curry Chicken With Lemon-Mint Yogurt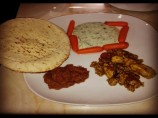 Photo by uclabruin
Prep Time: 15 mins
Total Time: 35 mins
Servings: 2-3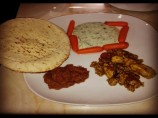 Photo by uclabruin
About This Recipe
"Delicious and easy chicken recipe"
Ingredients
For Chicken

1 lb chicken breast, cubed

1 cup green chili sauce

2 -3 tablespoons olive oil

1/2 red onion, sliced

1/2 tomatoes, sliced

2 -3 garlic cloves, minced

1 teaspoon curry powder

1/4 cup water

1 teaspoon salt

1 teaspoon fresh coarse ground black pepper

For Lemon-Mint Yogurt

1 large cucumber ( 2 if they are small)

1 cup plain yogurt

2 -3 sprigs of fresh mint, finely chopped

1 teaspoon fresh-squeezed lemon juice

1 teaspoon olive oil

1/2 teaspoon salt

1/2 teaspoon black pepper
Directions
For chicken: 1. Pat dry chicken with paper towel and season with salt and peper before frying in a large saucepan or wok.

2. Heat oil on medium-high then add chicken. Cook until meat is completely white. Transfer to a plate.

3. Add onions and fry till they are fully translucent, even a little brown. Then add garlic and fry for 2 to 3 minutes. Add a little bit of water if ingredients are sticking to the pan. Transfer chicken back to the saucepan and fry until meat is browned.

4. Add the sauce and cook for 7-8 minutes, or until the gravy is no longer watery. Add tomatoes and curry powder, saute for about 5 more minutes.

For Yogurt: 1. Shred cucumber(s) into a bowl.

2. Add rest of ingredients and mix.

You can also serve with pita bread or chappatis/roti. I added refried beans and baby carrots as sides for an added kick!