My Big Fat Greek Seasoning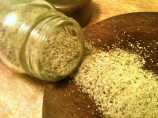 Photo by The Spice Guru
Prep Time: 15 mins
Total Time: 15 mins
Servings: 36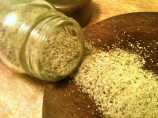 Photo by The Spice Guru
About This Recipe
"My MSG-free recipe for authentic Greek seasoning is the best you will ever taste... and has less sodium than the leading brand."
Ingredients
SPICE MILL INGREDIENTS

4 teaspoons dried oregano

1 tablespoon dried sweet basil leaves

1 1/2 teaspoons anise seed

1 1/2 teaspoons dried rosemary

1 teaspoon ground allspice

1 teaspoon dried dill weed

1 teaspoon dried parsley

3/4 teaspoon dried mint

3/4 teaspoon dried thyme

1/4 teaspoon ground cumin

1/4 teaspoon dried orange peel

2 crushed dried bay leaves or 1/4 teaspoon bay leaf powder

1 teaspoon cornstarch

SHAKE-IN INGREDIENTS

2 tablespoons fine garlic salt

1 1/2 tablespoons fresh ground black pepper

1 tablespoon vegetable bouillon granules

2 teaspoons lemon pepper

1 1/2 teaspoons onion salt

1 1/2 teaspoons white pepper

1 teaspoon cornstarch

1 teaspoon fine sugar
Directions
NOTE: PLEASE PREPARE THIS RECIPE EXACTLY AS WRITTEN, WITH NO SUBSTITUTIONS OR OMISSIONS. GARLIC SALT AND/OR ONION SALT MAY BE SUBSTITUTED BY USING 50% GARLIC POWDER OR ONION POWDER WITH 50% FINE SEA SALT. IF YOU MUST SUBSTITUTE THE VEGETABLE BOUILLON POWDER, USE CHICKEN BOUILLON POWDER. MEASURE all of the SPICE MILL INGREDIENTS into a clean spice mill or coffee grinder.

MILL mixture for 10 seconds.

STOP then shake spice mill.

REPEAT milling and shaking procedures until mixture is finely ground.

TRANSFER mixture to a resealable container.

ADD the SHAKE-IN INGREDIENTS.

SEAL the container.

SHAKE until thoroughly blended.

STORE tightly sealed in a cool, dry place away from light.

ENJOY measure-for-measure an all-purpose seasoning for your favorite savory Greek recipes.