Salsa Verde Made With Green Tomatoes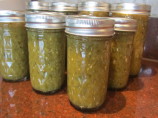 Photo by Rita~
Prep Time: 30 mins
Total Time: 1 hr
Yield: 15 1/2 pint jars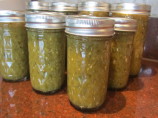 Photo by Rita~
About This Recipe
"Last of my garden grown green tomatoes went into this Healthy spicy salsa."
Ingredients
10 garlic cloves

6 -10 green chilies ( Heat of chili to your liking I used jalapeno and habanero)

1 vidalia onion, 12 ounces chopped

2 limes, zested then discard all the white pith saving the meat

6 lbs green tomatoes, all blemishes and stems remove ( 12 cups pureed)

1 tablespoon dried oregano

2 teaspoons ground cumin

1 teaspoon dried chipotle powder or 1 teaspoon smoked paprika

1 cup chopped fresh cilantro

1 teaspoon salt

1 teaspoon fresh cracked pepper
Directions
Prepare boiling water canner. Heat jars and lids in simmering water or dishwasher until ready for use. Set bands aside in hot water.

Pulse garlic, chilies, onions, lime zest and lime meat in a food processor. Process till chunky smooth. Place in a large saucepan. Pulse the green tomatoes in food processor till chunky smooth add to the onion mixture.

Bring to a boil. Stir in oregano, cumin, chipotle, cilantro, salt and pepper. Reduce heat and simmer 5 minutes.

Ladle salsa into hot jars leaving 1/2 inch head-space. Remove air bubbles. Wipe rim. Center hot lid on jar. Apply band and adjust until fit is fingertip tight.

Process salsa in a boiling water canner for 20 minutes, adjusting for altitude. Remove jars and cool. Check lids for seal after 24 hours. Lid should not flex up and down when center is pressed.