Smothered Potatoes - Papas Chorreadas, Colombia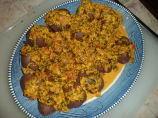 Photo by FabioH
Prep Time: 25 mins
Total Time: 1 hr 25 mins
Servings: 8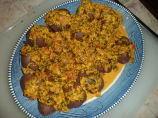 Photo by FabioH
About This Recipe
"A Tale of Two Cites: Medellín and Bogotá. Bogotá is cold, the people are very traditional, 10 million of them! Medellín; A party town, warm (a.k.a. The City of Eternal Spring), party population 3 million. Most of my family came out of Medellín and its surroundings. Both cities have completely different cuisines. A couple of my uncles moved to Bogotá (I guess they like cold weather), married and stayed. My uncle Tulio married Inés and had 10 children. "Inecita", as we called her, was a great cook and her signature recipe was "Papas Chorreadas" which she would always make for me when my parents and I rolled into town. Here is my favorite recipe from my sweet Aunt Inecita."
Ingredients
8 medium red potatoes

1 small white onion ( chopped finely)

1 bunch green onion ( chopped in 1/2 bits, reserve a tablespoon or so for garnish)

1 teaspoon chili powder

1/2 teaspoon cumin

1/2 teaspoon turmeric ( or anato. The recipe calls for Saffron but that stuff is expensive! It's just for color.)

2 tablespoons butter

2 medium tomatoes ( diced)

1/4 cup chopped fresh cilantro

3/4 cup heavy whipping cream

6 ounces mozzarella cheese
Directions
1. Scrub the potatoes and place in a large pot of boiling, salted water. Boil until tender when pierced with a fork. Drain potatoes and let cool slightly.

2. Finely chop the shallots or onion. Chop the white part and a inch or two of the green part of the scallions into 1/2 inch lengths. Finely chop the rest of the green parts of the scallion and reserve for a garnish.

3. Melt the butter in a large skillet. Saute the 1/2-inch pieces of scallion, the shallots, the cumin, and the chile powder in the butter until soft, about 5 minutes.

4. Add the diced tomatoes and cilantro, and cook until the tomatoes are soft and fragrant. Add the tablespoon of flour and stir briefly.

5. Stir in the cream, anato and cheese, and heat until sauce just comes to a boil and cheese is mostly melted. Remove from heat.

6. Slice potatoes into halves or wedges, and arrange potatoes onto a platter. Pour sauce over potatoes. Garnish with chopped green onion.