Spanish Rice With Chorizo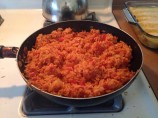 Photo by Mrs.Gomez
Prep Time: 10 mins
Total Time: 45 mins
Servings: 4-6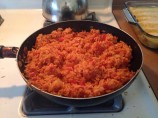 Photo by Mrs.Gomez
About This Recipe
"Its a bit of a spicy more flavorful twist on spanish rice."
Ingredients
1/2 cup spaghetti noodles ( broken into 1 inch pieces)

1 cup long grain rice ( my preference is basmati but any will do)

2 tablespoons butter ( seperated)

1 green bell pepper ( roughly diced)

1 medium onion ( roughly diced)

3 garlic cloves (chopped) or 1 tablespoon garlic

1/2 lb spanish chorizo ( In the plastic casing. It will be raw and ground up)

1 cup chicken broth

1/2 tablespoon chicken bouillon powder ( use the tomato chicken bouillon it can be found in the hispanic food section of your grocery store)

1 (8 ounce) cans tomato sauce

1 large tomatoes ( roughly diced)

1 -2 teaspoon garlic powder ( by your taste preference)

salt and pepper
Directions
on med heat add 1 tbls butter to saute pan and melt.

add spaghetti noodles to melted butter and cook until lightly brown and crisp.

Then add cup of rice and brown till golden.

remove rice from heat and set aside.

in seperate saute pan on med heat add remaining butter, bell pepper, and onion and saute until soft and onion is transulent then add garlic and saute for 2 minute.

turn heat to med high and add chorizo to sauted veggies and cook for 10-15 min or until resembiling ground beef texture.

Remove from heat, pour into seperate bowl and set aside.

on med high heat Add rice mix to pan chorizo was cooked in, add chicken broth, tomato sauce, diced tomatoes, garlice powder, tomato chicken bullion, salt and pepper.

bring to boil then lower to temp to simmer.

cover for 20-25 minute.

when done add chorizo mix and fluff with fork to fully incorporate mix making sure to add all the juices.

salt and pepper if needed.