Four Grilled Cheese Sandwich With Onions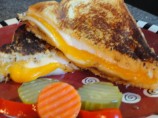 Photo by Muffin Goddess
Prep Time: 2 mins
Total Time: 10 mins
Serves: 1, Yield: 1 sandwich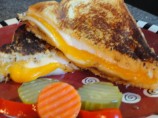 Photo by Muffin Goddess
About This Recipe
"A delicious grilled cheese sandwich I happened upon randomly. Since this recipe calls for a wider than usual selection of cheese that may exist in a normal household, it's recommended that you purchase a cheese slice assortment. Wouldn't recommend this for kids unless your child likes real cheese, which in my personal experience, is not usually the case."
Ingredients
2 slices white bread

1 slice colby-monterey jack cheese

1 slice cheddar cheese ( sharp, medium, mild, etc)

1 slice swiss cheese

1 slice American cheese ( as in processed, hardly cheese at all, mostly oil, cheese)

1 -2 tablespoon diced onion ( red or white)

3 dashes garlic powder

5 dashes Worcestershire sauce

4 dashes liquid smoke

1 dash fresh ground black pepper

2 tablespoons olive oil ( add as needed or desired)
Directions
Take a frying pan, add the diced onions and olive oil.

Set burner to medium-high.

Add in Worcestershire sauce, liquid smoke before onions start to sizzle.

Add in garlic powder and black pepper once onions begin to sizzle.

Stir frequently.

Fry until evenly browned.

Set aside onions.

Take white bread, lay all cheese slices in an order of your choosing, add onions on top, put on top slice of bread.

Re-oil pan if necessary.

on low heat, toast each side of the sandwich until desired toasting has been attained.

Make sure to check that the cheese is evenly melted through.

Enjoy!