Reynolds Overnight French Toast #RSC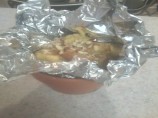 Photo by Chef #2259166
Prep Time: 20 mins
Total Time: 1 hr 15 mins
Serves: 8, Yield: 8 indivudual serving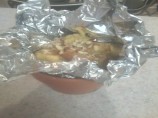 Photo by Chef #2259166
About This Recipe
"Ready, Set, Cook! Reynolds Wrap Contest Entry. This is great recipe to make the night before and not have to worry in the morning. Great for picnics, family get togethers, and tailgaiting"
Ingredients
8 slices French bread ( thick slices)

4 eggs

1 cup milk

1 tablespoon honey

4 teaspoons cinnamon

1 lemon

1/4 cup almonds

2 fresh peaches

2 fresh pears

1/2 cup brown sugar

1/2 cup butter

1/4 cup craisins

olive oil flavored cooking spray

maple syrup (optional)

Reynolds Wrap Foil

8 small clay flower pots
Directions
Dice up peaches and pears and put in large mixing bowl. squeeze the juice of 1 lemon on fruit. Add craisens, 2 tsp cinnamon, melted butter, brown sugar and toss together. In another bowl put cubed french bread sprinkle with cinnamon. In a small bowl beat eggs, milk, and honey. Then pour milk mixture over bread cubes and toss to coat. Next line 8 small flower pots with reynolds foil with pleanty hangin out to cover pot for baking. Spray with olive oil spray. next divide fruit mixture into the bottom of each pot. Then divide bread mixture between 8 pots. Next sprinkle to the tops of each pot with 1/8 of the chopped almonds. wrap closed the foil over each pot and place in the refrigerator for 4-24 hours. When you are ready to serve place pots in a 350 degree pre-heated oven for 50 minutes After 50 minutess open up the tops and bake for an additional 5 minutes. Then serve with maple syrup (optional). Looks like a pretty flower pot breakfast!