Butter Chicken (Or Cauliflower) With Cashews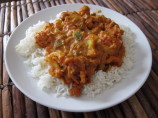 Photo by Dr. Jenny
Prep Time: 15 mins
Total Time: 1 hr 15 mins
Serves: 4, Yield: 4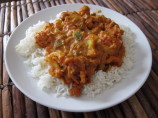 Photo by Dr. Jenny
About This Recipe
"I developed this recipe from Butter Chicken (also called Chicken Makhani) recipes in order to make a vegetarian version with Cauliflower, but this sauce works just as well with the traditional meat base. You can control the spiciness level depending on what type of hot red chili powder you add; certainly feel free to add more than 1 teaspoon if you like a lot of heat, but mix it in with some sweet paprika (or use only paprika) if you like it mild."
Ingredients
1/3 cup unsalted cashews

1 ounce butter

1 lb chicken, cubed or 1 lb cauliflower floret

1 bell pepper, seeded and cut into strips

1 onion, peeled and chopped

1 teaspoon minced garlic clove

2 teaspoons ground ginger

1 teaspoon ground cayenne pepper or 1 teaspoon paprika

1 teaspoon turmeric

1 teaspoon garam masala

1/2 teaspoon cinnamon

1 (6 ounce) cans tomato paste

1 (8 ounce) cans tomato sauce

1 cup sour cream or 1 cup plain yogurt

extra water, as needed
Directions
Melt butter over medium-low heat.

Add cashews and roast slowly until golden; lower heat if necessary to keep from burning.

Add cauliflower, onion, garlic and peppers and sauté in the cashew butter mixture a few minutes.

Add ginger, spices, tomato paste and tomato sauce to the pan, along with some water. .

Simmer covered until chicken or cauliflower reaches desired doneness. If sauce gets too thick, add more water.

Add the cream and heat through.

Serve over rice or with bread.