Sous Vided Pulled Pork #RSC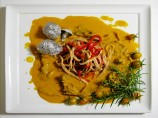 Photo by dcarch7777
Prep Time: 1 hr
Total Time: 1 hr 15 mins
Servings: 4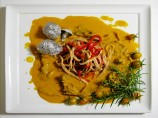 Photo by dcarch7777
About This Recipe
"Ready, Set, Cook! Reynolds Wrap Contest Entry. The price for a sous vide cooker has come down drastically from a few thousand dollars to the low hundreds. Finally this incredible technique previously only available to expensive restaurants and famous chefs is now within the means of family cooks. This recipe uses the sous vide's low temperature and long cooking time to infuse deep Rosemary and Bell Pepper flavor into the meat. Tender and juicy pulled pork is amazingly different than pulled pork done the regular way. Rather than typical plastic bags for the sous vide, I have found that aluminum foil gives better conductivity and not as expensive as sous vide bags. The plating of this dish shows one serving."
Ingredients
24 ounces skinless boneless pork shoulder

2 large red bell peppers

1 tablespoon smoked salt

1 pinch Chinese five spice powder

4 tablespoons bacon fat

2 tablespoons honey

4 tablespoons soy sauce

6 sprigs fresh rosemary

12 ounces oyster mushrooms

2 cups sungold cherry tomatoes

1/2 cup heavy cream

1 teaspoon salt

1/4 cup white wine

1 tablespoon garlic paste

3 teaspoons tapioca flour

1 teaspoon cumin

1 pinch ground pepper

1 sheet of heavy duty Reynolds Wrap Foil
Directions
Directions – Pulled Pork.

1. Remove pork shoulder bones and skin.

2. Roast and peel bell pepper. Julienne-cut.

3. Fold heavy duty aluminum foil into the shape of a bag with pork inside. Add to pork, soy sauce, honey, garlic, rosemary, bell pepper, smoked salt, bacon fat, and Five Spice, and triple fold all edges so that the bag will be watertight.

4. Place the pork shoulder aluminum bag in a sous vide cooker with water pre-heat to 155 degrees F. Cover and cook for 24 hours.

5. Remove pork from bag. Pork will be nice, tender, very flavorful and slightly pink and can be shredded easily.

Directions – Mushroom sauce.

1. There will be about 1/2 cup of concentrated juice resulted from the sous vide cooking in the aluminum bag. Remote the rosemary sprigs.

2. Add heavy cream, wine, garlic paste, cumin and Sungold cherry tomatoes puree to above and sauté mushrooms for 15 minutes.

3. Mix tapioca flour with 4 tablespoons of cold water and add to above and simmer for 5 minutes.

4. Photo is suggested plating. Sprinkle fresh ground pepper and serve.