Oriental Meatball Veggie Packets #RSC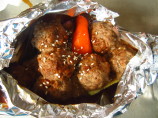 Photo by gailanng
Prep Time: 15 mins
Total Time: 45 mins
Serves: 4, Yield: 4 2 cup servings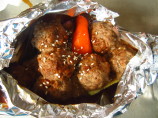 Photo by gailanng
About This Recipe
"Ready, Set, Cook! Reynolds Wrap Contest Entry. Packed with flavor, this recipe is so easy to prepare! The Reynold's Wrap packets make clean up a breeze! It will wow your family!"
Ingredients
2 teaspoons cornstarch

3 tablespoons soy sauce

2 tablespoons red wine vinegar

2 tablespoons hoisin sauce

1/4 teaspoon ground ginger

1/4 teaspoon garlic powder

1/4 teaspoon ground black pepper

1 egg, beaten

1/2 cup evaporated milk

1 cup breadcrumbs

1/2 teaspoon onion salt

1/4 teaspoon garlic powder

1/4 teaspoon ground black pepper

1 lb lean ground beef

1 cup corn kernel, cut from the cob

1 cup zucchini

1 cup red bell pepper

1/2 cup onion

2 cups cooked rice

1/2 teaspoon toasted sesame seeds

Reynolds Wrap Foil
Directions
Preheat oven to 350 degrees F.

In a small bowl, whisk cornstarch with soy sauce, vinegar, hoisin sauce, ginger, garlic powder and pepper. Set aside.

In a large bowl, combine egg, evaporated milk, bread crumbs, onion salt, garlic powder and black pepper. Crumble beef over mixture and blend well. Shape into 1-inch balls.

Tear off 4 12-inch pieces of Reynold's Wrap. Set 1/4 of the vegetables onto center of each piece of foil. Top each with 1/4 of the meatballs and 1/4 of the sauce. Fold foil over mixture and crimp edges to make packets. Place packets on a cookie sheet.

Bake at 350 degrees F. for 30 minutes, or until meatballs are fully cooked.

To serve, place 1/2 cup rice on each of 4 serving plates. Open each packet over rice. Sprinkle with sesame seeds.