Zingy Apple N.Y. Steaks #RSC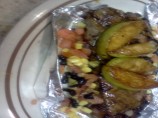 Photo by MommyJK
Prep Time: 15 mins
Total Time: 15 mins
Servings: 4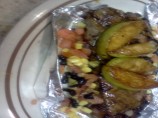 Photo by MommyJK
About This Recipe
"Ready, Set, Cook! Reynolds Wrap Contest Entry. A sweet yet Unexpected Flavored Steak."
Ingredients
4 (8 ounce) New York strip steaks

1 tablespoon salt

1 tablespoon pepper

1 teaspoon garlic powder

1 granny smith apple

2 tablespoons sugar

1 tablespoon cinnamon

1 fluid ounce brandy

1/8 cup heavy cream

1 tablespoon butter

2 cups fresh corn kernels

1 cup black beans ( cooked)

1/2 cup diced cherry tomatoes

1 tablespoon lemon juice

1 dash salt

1 dash pepper

Reynolds Wrap Foil
Directions
On a 12 by 12 sheet of Foil lay steaks, Rub salt pepper and Garlic Powder,mixed all over steaks.

Wash hands.

On cutting Board quarter Apple (make sure u cut core out) cut quarters into,4 peices each 1/4.

.

In a Bowl lined with Foil add Corn,Black Beans, and Diced Tomatoes and lemon juice mix,ogether with salt and Pepper cover bowl and shake real quick,Set aside.

Bake or BBQ N.Y. Steaks to your Prefered Temp, while those are cooking, in a Suatee Pan put Butter and heat on Med temp add Apples and cinnamon and sugar suatee apples till soft splash with 3/4 shot Brandy to burn off some of butter, slowly add Heavy Cream.

and let simmer till it thickens a little add last 1/4 shot brandy let sit till steaks.are done then rewarm a little.

Put Cooked Steaks in center of Plate take your Corn,Bean Salsa and put around Steaks,.

take apples out of sauce and lay 4 pieces Featherd on top of each Steak, slowly.

Drizzle apple Cream sauce over Apples and Steaks.

Serve and enjoy :).