Angie's Treat Dog Biscuits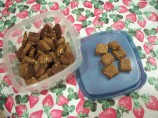 Photo by Chef #676524
Prep Time: 20 mins
Total Time: 1 hr 50 mins
Serves: 68, Yield: 68 biscuits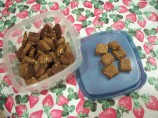 Photo by Chef #676524
About This Recipe
"A peanut butter treat, for a special dog. I read a lot of recipes and came up with this, with things I already had in the house. Angie likes them. I should have used a sugar free peanut butter"
Ingredients
1 1/4 cups whole wheat flour

1/4 cup oatmeal

1/4 cup cornmeal

1/4 cup buckwheat flour

2 eggs

1 tablespoon water

1/3 cup mashed banana

1 teaspoon fresh parsley

1/2 teaspoon cinnamon

1/2 cup peanut butter ( Jif)
Directions
Set aside 1/2 cup ww flour. Mix the rest of the dry ingredients. With fork blend eggs, water, banana and chopped parsley, place in small mixer bowl, add peanut butter, mix slow, add dry mix. Blend on low with dough blade. when well blended add the rest of flour a small amount at a time, turning off and on machine. Let it knead for 2 minutes. form a loaf shape and roll out between wax paper to 3/8th inch, cut into pieces appropriate for your dog, I did 1 inch squares, for my miniature schnauzer. Place on cookie sheet, bake 1 hour 325 degrees F. cool in oven.