Home Made Pizza Sauce Recipe from Scratch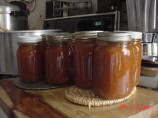 Photo by Chef Mit That's Tim
Prep Time: 20 mins
Total Time: 1 hr 20 mins
Servings: 8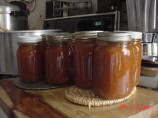 Photo by Chef Mit That's Tim
About This Recipe
"Contrary to popular opinion, pizza was not Italian in origin, but it was the Italians who gave it the name "pizza", improved upon it, and introduced it in the United States. Pizza was invented by the Greeks around several hundred years B.C. who were the early pioneers and skilled bakers, settling in Southern Italy around the Naples Region."
Ingredients
12 plum tomatoes, seeded, skinned, and pureed in a food processor

1 white onion, chopped fine

2 tablespoons olive oil

2 tablespoons garlic

2 tablespoons sugar

1 tablespoon salt

1/2 tablespoon red pepper

2 tablespoons minced garlic
Directions
Heat your oil in an 8 quart pan. Add your onions–we want to sweat them until they are transparent. This should take about six minutes. Then, add your garlic. By now, your kitchen should be filling with a delectable aroma–excellent!

At this point, we want to add the tomato puree we made, along with the sugar, salt, and red pepper. Bring the whole mixture to a boil. Then reduce heat and simmer, stirring occasionally, as the sauce thickens. The sauce should be pretty smooth when we finished, provided we did okay during the food-processing.

Voila! You've made all-natural, excellent pizza sauce from all whole ingredients. This pizza sauce recipe can be canned or frozen, so if you have left overs after you prepare your pizza, go ahead and save some for next time.

Please note: This can be canned or frozen. One pint is good for 2 -12 inch pizza's.