Crockpot French Herbed Chicken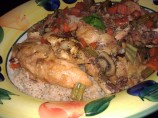 Photo by mersaydees
Prep Time: 30 mins
Total Time: 4 hrs
Servings: 4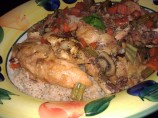 Photo by mersaydees
About This Recipe
"I adapted Debbie R's French Herbed Chicken for the crockpot for ZWT8's "A French Love Affair Challenge." Debbie's original recipe says to discard the celery before serving. You can see from my photo that I left it in because I like celery a lot. It was not pretty cooked so I highly recommend discarding it before serving! The only changes I made to the ingredients was to skin the chicken and coat it with seasoned flour before browning and I increased the quantity of wine and seasonings just a little. I used a pinot grigio wine instead of sauterne white wine because I normally don't use sauterne, although I'm eager to try it in this dish. I served this on a bed of brown rice couscous although it would be great on pasta or white rice. I cooked on high for 4 hours but it could have cooked less, so I would try somewhere between 3-4 hours. I didn't test it on low setting, which I'm sure would work, just not for a full 8 hours. This is chicken after all! Thanks, Debbie, for inspiring this dish! :)"
Ingredients
1 (3 lb) roasting chickens, skinned and cut into pieces

3 tablespoons seasoned flour ( for dredging)

1 -3 tablespoon olive oil

1/2 cup carrot, coarsely chopped

1 small onion, diced

2 ounces mushrooms, sliced

2 stalks celery, cut in 3-inch pieces

1 1/2 cups sauterne white wine

2 tablespoons fresh parsley, chopped

1/2 teaspoon dried thyme

1 medium bay leaf

pepper, freshly ground
Directions
In shallow bowl or pie plate, dredge chicken in seasoned flour.

Heat a tablespoon of the oil in a large skillet over medium-high heat. Brown chicken in hot oil, in batches, adding more oil if necessary. Remove to crockpot.

Drain excess fat from skillet. Add carrots, onions, mushrooms, and celery and sauté over medium heat a couple of minutes to soften the vegetables a bit. Add wine and seasonings and bring just to the boiling point. Allow to boil a minute or two in order to thicken and reduce the sauce a little. Pour over chicken in crockpot, including any bits left on the bottom of the skillet.

Cover and cook on low setting for 3-4 hours.

Remove bay leaf and celery before serving.