Pickled Pear Tomatoes With Rosemary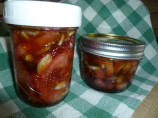 Photo by Ambervim
Prep Time: 35 mins
Total Time: 1 hr
Yield: 7 Half pints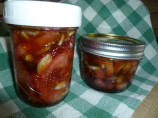 Photo by Ambervim
About This Recipe
"From B&G canning mag. This is for whole pear or cherry tomatoes. You can use sliced but they do not look as pretty."
Ingredients
5 cups tomatoes, pear or 5 cups tomatoes, cherry

1 cup sweet onion, thinly sliced

1/2 teaspoon red pepper, crushed

6 garlic cloves, thinly sliced

2 1/4 cups white balsamic vinegar

3/4 cup water

1/3 cup sugar

3 tablespoons pickling salt

1 tablespoon fresh rosemary leaf

1/2 teaspoon whole black peppercorn

1/2 teaspoon whole pink peppercorns

1/2 teaspoon whole white peppercorns

1 bay leaf
Directions
Wash tomatoes. in large bowl combine tomatoes, onion, red pepper and garlic, toss to combine. Set aside.

In large none reacting pot combine vinegar, water, sugar, salt, rosemary, all peppercorns and bay leaf. Bring to a boil, stirring until sugar is dissoved. Reduce heat, and simmer uncovered for 10 minutes. Stirring often.

Remove from heat and discard bay leaf.

Pack tomatoes into hot sterilized 8 oz jars. Leaving 1/2" head space.

Pour HOT vinegar mixture over tomatoes, leaving 1/2" head space. Remove any air bubbles in jars, wipe rims and add lids.

Process filled jars for 15 minutes in water bath.