Forevermama's Hawaiian Chicken Wings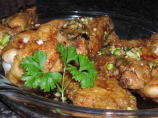 Photo by teresas
Prep Time: 30 mins
Total Time: 1 hr 15 mins
Servings: 8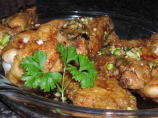 Photo by teresas
About This Recipe
"I've been making these forever!! The list of ingredients seem so simple, but the flavor is amazing. You don't know what you're missing if you haven't made these. They were given to me by a friend and I make them often for home and I bring them to potlucks. They're my kids favorite dish."
Ingredients
4 lbs whole chicken wings

1 cup all-purpose flour

1 1/2 teaspoons salt

enough oil ( for deep frying)

Sauce

1/3 cup sugar

1/4 soy sauce

3 -4 garlic cloves, minced

3 scallions, thinly sliced

1 teaspoon finely chopped jalapeno peppers (both are optional) or 1/4-1/2 teaspoon red pepper flakes ( both are optional)
Directions
Cut chicken wings into 3 sections; discard wing tips. In a large plastic bag or shallow bowl, combine flour and salt. Add wings in small batches; toss to coat. (Place floured wings in refrigerator; this helps flour to adhere to chicken.) In an electric skillet or deep fat fryer, heat oil to 350 degrees Fahrenheit. Fry wings, a few at a time, until juices run clear, about 8 - 10 minutes. Drain on paper towels. In a bowl, combine sugar, soy sauce, garlic scallions and jalepeno (optional). Dip fried wings in sauce. Serve immediately.

NOTE: I normally double the sauce cause it's great and adds more flavor. For a crispy result and for a great end product, the temperature of the oil and fry time is essential. Therefore if you find that your wings aren't crispy enough when cooked for the 8 - 10 minutes, fry them up a little longer until they are crispy!