Vichyssoise (Potato & Leek Soup)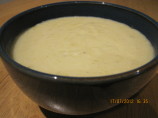 Photo by Noo
Prep Time: 15 mins
Total Time: 45 mins
Servings: 4-6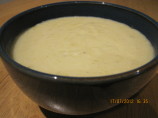 Photo by Noo
About This Recipe
"A Cold, Creamy, Luscious Summer Potato & Leek Soup recipe I found on thenibble.com. This was created by a French Chef and it is traditionally served cold can be served hot for those in their winter months. I have had this soup (cold) and loved it, but this one is untried by me at this time. Posting for the French leg of ZWT with minor changes for my taste and texture."
Ingredients
2 potatoes

3 large leeks, washed well

3 tablespoons butter

3 cups chicken stock

1 cup milk

1 cup heavy cream ( whipping cream)

1 teaspoon salt

1/4 teaspoon freshly-ground white pepper

fresh chives, to garnish
Directions
Peel and thinly slice the potatoes. Remove the tops from the leek and finely chop the white bulbs only.

Heat the butter in a large saucepan. Add the potatoes and leek and cook gently, without browning. Add the chicken stock, bring to a boil and then reduce to a simmer. Once the vegetables are tender(about 30 mins) puree them in 2 batches in a blender. Stir in the cream and pureed veggies into a bowl, cover the bowl with plastic wrap and cool the mixture in the refrigerator. If soup is too thick, prior to serving, stir in a bit of water to thin it out.

Serve the mixture in chilled dishes and garnish with the chives.