Red Lentil and Chicken Soup - Indian Style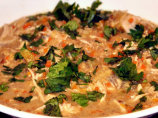 Photo by KateL
Prep Time: 30 mins
Total Time: 1 hr
Servings: 4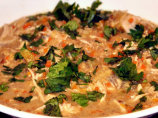 Photo by KateL
About This Recipe
"This recipe is an adaptation of one of Sara Moulton's. It's Indian-style soup made easy by the use of rotisserie chicken. Feel free to add your own combination of spices if you'd like more flavor!"
Ingredients
2 medium carrots, chopped

1 medium onion, chopped

1 golden delicious apple, peeled and chopped

2 medium celery ribs, chopped

1 tablespoon vegetable oil

1 tablespoon garam masala, divided

1 1/2 inches piece fresh ginger, peeled and grated

4 cups chicken stock

1 cup light coconut milk

1 cup red lentil, rinsed in cold water

2 cups packed skinless cooked chicken, cut into 1/4 inch pieces ( from a large rotisserie chicken)

1/2 cup cilantro leaf (optional)
Directions
Heat the vegetable oil in a fairly large pan, over high heat. Once hot, reduce the heat to about medium. Add 1 t garam masala and cook for about 1 minute. Then add the carrots, onion, apple and celery and cook, while stirring a bit, until the mixture has softened up, approximately 8 minutes.

Add the chicken stock, coconut milk, ginger and 1 t of the garam masala to the pan. Add the rinsed lentils and bring the soup to a boil (on high heat), then reduce the heat to low and simmer it for approximately 20 to 25 minutes. You just want to get the lentils nice and tender.

Add the chicken and the remaining 1 t garam masala to the soup and let it return it to a boil again. Serve. Optional to sprinkle the cilantro over the top of each bowl of soup.