Rib Eye Steaks With Fragrant Chile Rub and Salsa Butter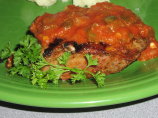 Photo by teresas
Prep Time: 45 mins
Total Time: 55 mins
Servings: 4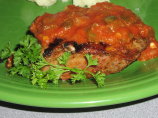 Photo by teresas
About This Recipe
"Adapted from "Mastering Grilling" by Andrew Schloss and David Joachim."
Ingredients
4 boneless rib-eye steaks (8 to 10 oz. each, 1-in. thick) or 4 New York strip steaks ( 8 to 10 oz. each, 1-in. thick)

oil, for coating the grill grate

FRAGRANT CHILE RUB

2 tablespoons kosher salt

2 tablespoons paprika

1 tablespoon dark brown sugar

1 tablespoon ground dried ancho chile powder

1 -3 teaspoon ground dried chipotle powder

1/2 teaspoon ground cumin

1/2 teaspoon ground black pepper

SALSA BUTTER

1 1/2 cups purchased salsa

3 tablespoons unsalted butter, cut into pieces
Directions
Pat steaks dry with paper towels, then scatter the chile rub over the steaks, patting it in with your fingers to adhere. Let the meat rest at room temperature as you heat the grill.

Oil a grill rack and arrange 4 to 5 inches from heat. Prepare grill for a hot fire or high temperature on a gas grill.

Grill steaks until darkly crusted, 3 to 4 minutes per side. Reduce heat to medium low (on a gas grill) or move steaks to low-heat area (for a charcoal grill), cover and grill for another 3 to 4 minutes for medium-rare to medium (135 degrees to 140 degrees).

Transfer to a platter, cover loosely with foil, and let rest for 5 to 8 minutes. Serve topped with generous dollops of Salsa Butter.

To prepare the Fragrant Chile Rub: Combine all ingredients to blend.

For the Salsa Butter: Bring the salsa to a boil in a small saucepan or skillet and cook until most of the liquid is gone. Remove from heat and whisk in the butter until the sauce is smooth. Serve warm.