Roasted Potatoes (Sukhi Bhaji)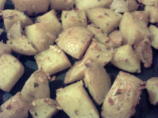 Photo by Chocolatl
Prep Time: 10 mins
Total Time: 1 hr 25 mins
Servings: 4-6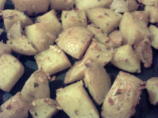 Photo by Chocolatl
About This Recipe
"Another recipe, untried by me, found on Greeting India that I am posting for ZWT. It calls for fenugreek seeds, which I haven't seen in my local grocery store, so if you can't find it, could double the mustard seeds, as it is a recommended substitute."
Ingredients
5 potatoes

1/4 cup coriander, chopped

1 onion, finely minced

1/2 teaspoon ginger, grated

1 teaspoon garlic, grated

1/4 teaspoon turmeric powder

1 teaspoon cumin powder

1 teaspoon chili powder

1 teaspoon cumin seed

1 teaspoon mustard seeds

1 teaspoon fenugreek seeds

4 tablespoons olive oil ( or canola)
Directions
1. Cut potatoes into medium dice.

2. Grease a sheet pan with 1 tbsp of oil, spread potatoes evenly on the pan, and roast in the oven until a fork pieces easily but potatoes remain firm. (alternative: potatoes may simply be boiled in their skins and then chopped)

3. If desired, peel potatoes after they have cooled slightly.

4. Heat 1 tbsp of the oil in a large pan. Add turmeric, chili powder, mustard seeds, cumin powder, fenugreek seeds, and cumin seeds. Toast lightly.

5. Add onion and the remainder of the oil. Lower the heat on the pan to medium.

6. Add the potatoes to the pan, stiring gently to coat them with the spices.

7. Warm the potatoes through on high heat, taking care not to break them. (about 3 minutes)

8. Garnish with coriander, serve hot with rice, parathas or rotis.