Black Bean Burgers Made With Veggie Pulp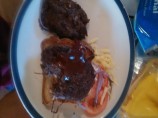 Photo by Chef #1803670998
Prep Time: 5 mins
Total Time: 15 mins
Servings: 4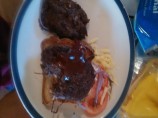 Photo by Chef #1803670998
About This Recipe
"The upside of juicing is that you get maximum nutrition with minimum food prep. The downside is that you have all this pulp that is too good to just throw away. What's a Mom to do?? Black Bean Burgers to the rescue, ta da!"
Ingredients
1/2 cup oatmeal, quick cooking ( or bread crumbs)

2 cups black beans, drained

1 small onion, minced ( or 1 tsp onion powder)

2 teaspoons minced garlic ( or 2 cloves minced)

1/2 teaspoon oregano, dried

1 tablespoon virgin coconut oil ( my current favorite, use what you have)

1 cup pulp from juicing such as carrot, celery, beet, spinach, cucumber, etc

1/4 teaspoon cumin

1/2 teaspoon salt

2 teaspoons chili powder

2 tablespoons virgin coconut oil, for frying
Directions
Place oatmeal in bowl; add black beans. Using a potato masher, mash the two together. Add the rest of the ingredients, except the last 2 T of coconut oil. (You'll need them for frying.) Mix well to combine.

Form into patties (4 dinner size, 6 lunch or snack size).

Fry in a griddle until the center is hot (about 4 minutes each side) Load them up in a sandwich with your favorite fixings. Bon appetit!