Soda Pop Chops With Smashed Potatoes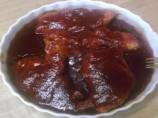 Photo by rinkydynk
Prep Time: 25 mins
Total Time: 45 mins
Servings: 4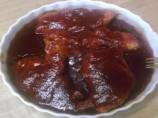 Photo by rinkydynk
About This Recipe
"I've yet to try this one that I received it in my e-mail from Taste of Home. It sounds like a fun recipe, with its root beer spiked sauce and side of red potatoes. Add a cool, crisp salad or steamed fresh veggies, and dinner's done!"
Ingredients
1 1/2 lbs small red potatoes, halved

1 cup root beer

1 cup ketchup

1 tablespoon brown sugar

2 teaspoons chili powder

2 teaspoons Worcestershire sauce

1/4 teaspoon garlic powder

2 tablespoons all-purpose flour

3/4 teaspoon pepper, divided

1/2 teaspoon salt, divided

4 pork loin chops with bone ( 7 ounces each)

2 tablespoons olive oil

2 tablespoons butter

1/4 teaspoon garlic powder
Directions
Place potatoes in a large saucepan and cover with water. Bring to a boil. Reduce heat; cover and cook for 15-20 minutes or until tender.

Meanwhile, in a small bowl, combine the root beer, ketchup, brown sugar, chili powder, Worcestershire sauce and garlic powder; set aside. In a large, resealable plastic bag, combine flour, 1/2 teaspoon pepper and 1/4 teaspoon salt. Add pork chops, one at a time, and shake to coat. in a large skillet, brown chops in oil. Add root beer mixture. Bring to a boil. Reduce heat; cover and cook for 10-15 minutes or until meat is tender, turning once. Remove pork and keep warm. Bring sauce to a boil; cook until liquid is reduced by half.

Meanwhile, drain the potatoes; mash with butter, garlic powder, and remaining salt and pepper. Serve with pork chops and sauce.