Stirfry Steamed With Sirloin Strips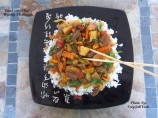 Photo by DayJahView
Prep Time: 20 mins
Total Time: 40 mins
Servings: 6-8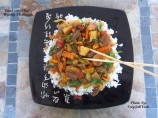 Photo by DayJahView
About This Recipe
"I LOVE Chinese food! This recipe has two Asian Market products in it (in addition to soy sauce) that I believe make all the difference in the world. With every bite you will be making the YUM sound!"
Ingredients
16 ounces boneless beef top sirloin steaks ( cut into bite size pieces)

20 garlic cloves ( thinly sliced)

1 tablespoon olive oil

5 carrots ( cut into bite size pieces)

2 cups celery, chopped

3 cups bell peppers, sliced into bite size pieces ( red, orange and yellow)

8 ounces water chestnuts ( rinsed well and drained)

8 ounces bamboo shoots ( rinsed well and drained)

1 pineapple ( peeled and cubed)

3 tablespoons oyster sauce ( Panda Brand found in Asian Markets)

1 tablespoon black bean in garlic sauce ( Found in Asian Markets)

1 teaspoon cayenne pepper

1/2 teaspoon salt

1/2 teaspoon pepper

1/2 teaspoon cinnamon

1/4 teaspoon lemon zest

1 cup spinach leaves

2 tablespoons soy sauce
Directions
Marinade Beef in Oyster Sauce Overnight in sealed Zip Lock bag or Bowl with tightly cover lid.

Add oil to an LARGE nonstick, covered pan but do not turn on the heat until all ingredients are assembled.

Add Garlic.

Add Carrot on top of garlic. Do not stir.

Add Celery on top of carrots.

Add Peppers on top of Celery.

Sprinkle with all granulated seasonings.

Add Beef on top of Peppers.

Add Water Chestnuts and Bamboo Shoots on top of Beef. Do not Stir.

Cover and SIMMER on LOW to medium heat for 10 to 15 minutes (the wider the pan, the less time to simmer). And, use common sense and personal preference for the meat's doneness, e.g., the longer it is cooked on high heat, the tougher it will be.

Stir ingredients and add Black Beans in Garlic Sauce and Soy Sauce.

Stir and Simmer five minutes more covered.

Turn off heat and toss in pineapple and spinach. Cover and let sit for two minutes longer.

Serve over jasmine rice. Enjoy!