Crab Cakes With Shrimp Sauce (British Virgin Islands)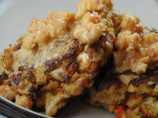 Photo by GiddyUpGo
Prep Time: 15 mins
Total Time: 20 mins
Servings: 4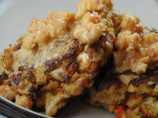 Photo by GiddyUpGo
About This Recipe
"This recipe was featured on week 37 of my food blog, "Travel by Stove." I am attempting to cook one meal from every nation on Earth, and the British Virgin Islands is my 37th stop. Unless otherwise noted, my Travel by Stove recipes are taken from authentic or traditional sources, and this recipe has been posted without any alternations or additions to the ingredients. This recipe originally appeared in The Sugar Mill Caribbean Cookbook."
Ingredients
For the fish sauce

1 garlic clove, chopped

1 shallot, chopped

2 ounces raw shrimp, deveined, shells removed and reserved

1 1/2 teaspoons vegetable oil

1/2 teaspoon paprika

2 tablespoons dry sherry

2 tablespoons heavy cream

salt and pepper

For the crab cakes

1/2 cup red and yellow bell pepper, finely diced

2 tablespoons butter

2 small eggs, separated

1 cup soft breadcrumbs

cooked crab meat

1 1/2 teaspoons caribbean seasoning

flour, for dusting

1 dash Worcestershire sauce

1 dash Tabasco sauce

salt and pepper
Directions
Finely mince the shrimp and set aside, reserving the.

Heat the oil in a small saucepan over medium heat, then saute the shrimp shells with the garlic and shallots.

When the shells turn pink, add the paprika and the sherry. Continue to cook until the sherry has reduced by half (this won't take very long).

Strain the mixture, and return the liquid to the pan. Add the diced shrimp and the heavy cream. Keep cooking until the sauce thickens (it should coat the back of your spoon). Season with salt and pepper and keep warm.

Put the breadcrumbs and crab meat into a medium sized bowl and set aside. With your mixer, beat the egg whites until you get stiff peaks, then fold into the crab mixture.

Gently add the peppers, yolks, Caribbean seasoning, Worcestershire and Tabasco sauces.

Form the crab mixture into small cakes (you should get six to eight from this recipe) and dust with flour.

Fry in the remaining 1 tbsp butter. When they are golden brown, flip and continue to fry until the other side is also golden brown.

To serve, pour the shrimp sauce over.