Banana Walnut Bread (Sugar/Grain/Gluten Free)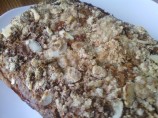 Photo by Chef AngelaH
Prep Time: 15 mins
Total Time: 1 hr 5 mins
Yield: 1 loaf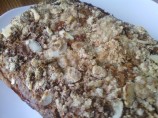 Photo by Chef AngelaH
About This Recipe
"No Grains, No Sugar and No Gluten! (..and no guilt!) --via www.GastroChef.org"
Ingredients
3/4 cup coconut flour

6 eggs

1/2 cup honey

1/4 cup coconut oil

1 teaspoon vanilla extract

1/2 teaspoon almond extract

2 bananas, ripe

1/4 teaspoon baking soda

1/4 teaspoon cinnamon

1/4 teaspoon nutmeg

1 cup chopped walnuts

1/2 cup almond flour

2 tablespoons coconut oil

2 tablespoons honey

1 tablespoon cinnamon

1/2 cup walnuts, chopped
Directions
Preheat oven to 350°C.

Combine 6 eggs, 1/2 cup honey, 1/4 cup coconut oil, vanilla extract, almond extract and banana together and mix on high speed with a hand blender.

Combine coconut flour, baking soda, cinnamon, nutmeg and 1 cup of chopped walnuts and ensure they are well mixed before combining with wet mix.

Line a bread pan with parchment paper and pour batter into pan.

In a small bowl combine 1/2 cup almond flour, 2 Tbsp coconut oil, 2 Tbsp honey, 1 Tbsp cinnamon and 1/2 cup of chopped walnuts to create a walnut crumble topping.

Mix together and mix with a spoon until well combined.

Gently cover batter with walnut crumble mix.

Bake loaf for 45-50 minutes or until crumble is browned and a knife can be placed in the middle of bread and come out clean.

If crumble starts to look to brown, cover with foil until loaf has finished cooking.

Enjoy!