Crispy Deep Fried Spinach & Artichoke Dip Balls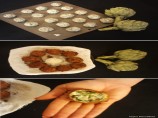 Photo by tpiercefield
Prep Time: 15 mins
Total Time: 20 mins
Serves: 4-6, Yield: 18.0 Ball of Joy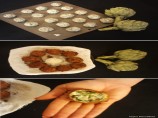 Photo by tpiercefield
About This Recipe
"My girlfriend and I were at T.G.I. Fridays last week, and as we were eating chips w/ spinach and artichoke dip, and we started talking about how good it would be in deep friend little balls. We thought that surely it had been done before, but as we searched online (Food Network,Google,etc), we couldn't find any reference to it, and couldn't find a recipe. Well, we decided to make our own!"
Ingredients
3 artichoke hearts ( fresh, not canned or pickled)

3 garlic cloves ( shredded or pressed)

1/2 teaspoon black pepper

8 ounces chopped spinach ( squeeze as much water out as you can)

1/4 cup mayonnaise

1/4 cup sour cream

1/2 cup mozzarella cheese

1/2 cup grated parmesan cheese

Three Stage Breading

1 cup flour, for bowl # 1

3 large eggs, beaten for bowl # 2

panko breadcrumbs, bowl # 3
Directions
If you've made Spinach & Artichoke Dip before, you will notice that this recipe is much thicker. If the finished product isn't thick enough to roll into balls, add alittle more Parm Cheese, or refrigerate to tighten/thicken the mix.

Preheat your Fry Daddy! Roll the balls into the size you would like, and place on a sheet, and place in the freezer for 20 - 30 mins (this will tighten/solidify the balls into something that can be more successfully breaded.

One at a time, cover each ball with flour (bowl #1), then into the egg until its totally covered (bowl #2), and finally into the breadcrumbs until covered (bowl #3). Drop into the hot oil and fry for 5 - 6 minutes. Enjoy!