Nem Nuong (Vietnamese Grilled Pork Patties)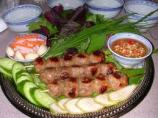 Photo by nguyendinhhoi
Prep Time: 1 hr 30 mins
Total Time: 1 hr 40 mins
Servings: 4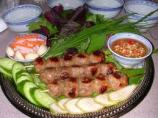 Photo by nguyendinhhoi
About This Recipe
"The Vietnamese names confuse me, but not the taste. It's all good! Recipe inspired by The Ravenous Couple blogspot."
Ingredients
Nem Nuong

907.18 g ground pork

1 whole head of garlic ( cloves, peeled but can use more or less according to taste)

78.07 ml sugar

7.39 ml salt

7.39 ml pepper

19.71 ml baking powder ( optional and see Instruction 2)

59.14 ml water

0.06 ml red food coloring (optional) or 4.92 ml caramel syrup (optional)

Nuoc Cham

2 garlic cloves, minced

29.58 ml sugar

118.29 ml water

59.14 ml asian fish sauce

59.14 ml fresh lime juice

29.58 ml white vinegar

1-2 red Thai chile, thinly sliced

Optional Bun Nem Nuong (Vermicelli with Vietnamese Grilled Pork Patties)

1 (396.89 g) bag vermicelli

fresh herb (optional)

pickled carrots and daikon radish (optional)

fried shallots (optional)

chopped roasted peanuts
Directions
Using food processor, process garlic until finely pureed. Combine pork, garlic, salt, pepper and sugar in mixing bowl and mix well. In a separate bowl, combine baking powder and water and stir. Mixture will bubble and foam. Add one drop of food coloring or caramel syrup (this adds color to the pork when grilled).

Fold the baking powder into mixture and allow meat to chill for about 30 minutes to 1 hour or longer. The baking powder forms air bubbles and adds more bouncier or spongier texture.

Refrigerate meat mixture a few hours to let it set for easier handling while forming patties, balls or flattened mini sausages. Keep a bowl of water handy and your hands wet for easy handling.

Grill or pan fry about 4-5 minutes per side.

Serve with Nuoc Cham and vermicelli (bean thread), if desired.

To make Nuoc Cham: In a bowl, mash the garlic with the sugar. Add remaining ingredients and mix well.

To make Bun Nem Noung: Place vermicelli in boiling water for about 6-8 minutes, stirring regularly to keep from sticking to the bottom of the pot. To check for doneness, take a strand and taste. It should be still slightly firm but easily breaks apart. Drain and flush with cold water to stop the cooking process.

Combine vermicelli in bowls with nem nuong (pork patties), fresh herbs, pickled carrots and daikon, fried shallots and/or crushed roasted peanuts and dress with Nuoc Cham (sauce).