Chicken Biryani in Microwave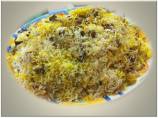 Photo by Yummyfoodmadeasy
Prep Time: 30 mins
Total Time: 1 hr 10 mins
Servings: 6-8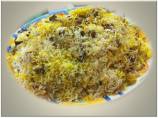 Photo by Yummyfoodmadeasy
About This Recipe
"Biryani is a rice dish, that is cooked either with chicken or meat. It can be made in various ways. When I first started making Biryani on the stove, my biggest problem was when I added the rice, the water would not get absorbed and my rice would get mushy. Making it in the microwave, can be a bit tedious, but definitely a good way for beginners to learn how to make biryani. Hope you enjoy my chicken biryani!!"
Ingredients
Rice Part Ingredients

500 g basmati rice

4 tablespoons ghee or 4 tablespoons oil

2 tablespoons onions

2 cardamoms

2 cloves

1 bay leaf

1 teaspoon rose water

1 liter hot water

salt ( according to taste)

Chicken part Ingredients

1 kg chicken, with bones

4 tablespoons ghee or 4 tablespoons oil

3/4 cup onion ( sliced)

1/2 teaspoon garlic paste

2 tablespoons ginger paste

1 tablespoon onion paste

1/2 teaspoon black pepper

1/2 teaspoon garam masala

1 tablespoon almond paste

1 tablespoon poppy seed paste

1/2 cup yoghurt ( sour)

6 prunes ( aloo Bukhara)

4 -5 saffron strands ( soaked in milk)

1 tablespoon powdered milk

salt ( according to taste)
Directions
Directions for the Rice:.

Soak the rice in water for half an hour.

Take two tbsp of oil in a microwaveable bowl and add the onions. Heat this for about 4 mins on high heat. (depends on the microwave, until the onions are browned).

Take out the browned onions, add the rice and everything else except the rose water and hot water. Heat for about 2 minutes.

Now take out the flavoured rice and add the hot water, and cook for about 10 minutes Stirring once in between. Take out and sprinkle the rose water.

Directions for the Chicken:.

As per the rice, add the sliced onions in 2 tbsp of oil and cook the onions for about 4 minutes.

With a knife make slits in all the chicken pieces, and marinate with yoghurt, garlic, ginger, almond, onion and poppy seed paste along with the black pepper, garam masala, ghee, salt and prunes. Set aside to marinate for 20 minutes.

In a microwaveable bowl, cook the chicken along with the marinated spices for about 20 mins, stirring occasionally. Then heat with the cover on for about 8 minutes.

Now add the prepared rice, powder milk and saffron to the chicken. Heat for another 5 minutes, or until the liquid is absorbed.

Serve garnished with fried onions.