Quick and Easy Banana Mango Chutney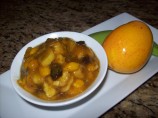 Photo by Jostlori
Prep Time: 5 mins
Total Time: 20 mins
Serves: 1, Yield: 1.6666666 cups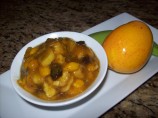 Photo by Jostlori
About This Recipe
"I live on a hilltop in Costa Rica and have an over-abundance of mangoes and bananas growing wild all over our property - so when I found this wonderful recipe for Cuban Ahi with Banana-Mango Chutney by Chef Manami, I couldn't resist. It turned out wonderfully and I am posting the chutney by itself so I can group it in a separate cookbook. I've made some tweaks based on personal preference - but the original recipe is awesome. You can use just ripe bananas if you don't have green - but I like the texture when using both. Thank you, Manami!!!"
Ingredients
1/2 cup cider vinegar

1/2 cup brown sugar

1 teaspoon curry powder

1/2 teaspoon cinnamon

1/2 teaspoon red pepper flakes ( less if you don't like it spicy)

1 garlic clove, minced

1 teaspoon ginger juice

2 medium green bananas, sliced

1 medium banana, ripe, sliced

2 medium mangoes, peeled, diced, divided use

1 tablespoon raisins
Directions
In medium saucepan, combine first seven ingredients.

Bring to a boil over medium heat, then reduce heat and simmer one minute.

Add green bananas and half the diced mango, stir well to combine and simmer uncovered for 10 minutes, stirring occasionally until thick and bananas are tender.

Remove from heat and add remaining banana and mango, along with the raisins.

Stir well to combine, cover and let stand for 30 minutes.

To make ginger juice: place peeled and chopped fresh ginger in a Magic Bullet type blender jar, add small amount of water (just enuf to blend), blend till liquefied and strain into glass container. Refrigerate. Use for cooking, add to lemonade, or dilute for a refreshing tea. It will turn a tan color but that's perfectly ok.