Cinnamon Coffee Cake With Pecans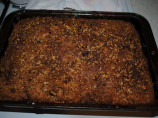 Photo by Karamae31
Prep Time: 20 mins
Total Time: 1 hr 20 mins
Servings: 15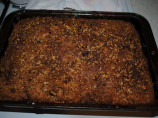 Photo by Karamae31
About This Recipe
"This ia a yummy cinnamon coffee cake that is great fresh and fantastic the next day so make it ahead of time and enjoy!"
Ingredients
1/2 cup butter

1/2 cup applesauce

1 cup white sugar

1 cup brown sugar

4 eggs

2 teaspoons vanilla extract

4 cups flour

2 teaspoons baking powder

1 teaspoon baking soda

1 teaspoon salt

2 cups sour cream or 2 cups vanilla yogurt

1 1/2 cups pecans, chopped

2 tablespoons ground cinnamon

3/4 cup brown sugar

1/4 cup butter
Directions
In a large bowl (or using the kitchen aid) cream together the butter, applesauce, 1 cup brown sugar, and 1 cup white sugar until fluffy.

Add vanilla to the sugar mix.

Add eggs, one at time. If you are using the Kitchen Aid, just add one at a time. If mixing by hand, add an egg, stir, repeat for until all four eggs are incorporated.

In another bowl, combine flour, baking powder, baking soda, and salt.

Add about a fourth of the flour mix to the sugar mix. Then add about a fourth of the sour cream (or vanilla yogurt) to the sugar mix. Repeat until all the flour and sour cream have been added to the mix.

To make the topping/filling, combine the pecans, cinnamon, brown sugar, and cold butter in a dish.

In a greased 9x13 inch cake pan or a bundt cake pan, spread about 1/3 of the cake mix, then top with 1/3 of the pecan mix. Repeat two more times.

Bake at 350 degrees for 60 to 70 minutes.