The Cake Mix Doctor - Peanut Butter Brownies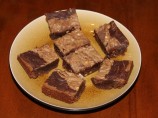 Photo by Jaye Anna
Prep Time: 20 mins
Total Time: 48 mins
Yield: 30 bars (approx)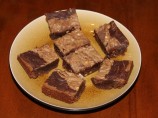 Photo by Jaye Anna
About This Recipe
"This sweet recipe comes from 'The Cake Mix Doctor Returns'. It was fun to make and was a great hit at work. I used a fudge brownie mix and the brownies almost tasted like peanut butter fudge."
Ingredients
1 (20 ounce) packages brownie mix

1 cup crunchy peanut butter

8 tablespoons butter, melted

2 large eggs

1 (12 ounce) packages semi-sweet chocolate chips

1 (14 ounce) cans sweetened condensed milk

2 teaspoons pure vanilla extract
Directions
1) Place rack in the center of the oven and preheat to 350°F Set aside ungreased 13 by 9 inch metal baking pan.

2) Place the brownie mix, peanut butter, butter and eggs in a large mixing bowl and beat with an electric mixer on low speed for 1 minute. Stop the machine and scrape down the side of the bowl with a rubber spatula. The mixture will be thick. Set aside about 1 ½ cups for the topping. Place the remaining brownie mixture in the baking pan, pressing it over the bottom of the pan with your fingertips so that it reaches all sides. Set pan aside.

3) Place the chocolate chips and condensed milk in a medium size microwave-safe glass bowl and microwave on high power for 1 minute. Stir in the vanilla and continue stirring until the chocolate has melted and the mixture is smooth and creamy. Pour the chocolate mixture into the baking pan, spreading it evenly with the rubber spatula so that it reaches the sides of the pan. Using your fingertips, crumble the reserved topping and scatter it over the chocolate mixture. Place the pan in the oven.

4) Bake the brownies until the edges have set and the top crust springs back when lightly pressed with a finger, 28 to 32 minutes. Transfer the baking pan to a wire rack and let the brownies cool for 20 minutes before cutting them into bars and serve.