Coconut Flour Chocolate Chip Cookies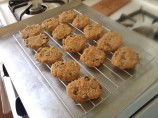 Photo by mileen
Prep Time: 15 mins
Total Time: 35 mins
Serves: 30, Yield: 30 cookies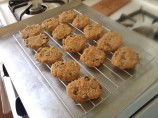 Photo by mileen
About This Recipe
"Coconut flour has good health benefits and is also low in carbs and high in fiber. Of course these cookies won't be exactly like your standard wheat flour chocolate chip cookies, but the coconut flour adds a new twist with texture and flavor that I really like. Give it a try! ***Note - as with many of my recipes, I use So Delicious brand coconut milk (50 calories/cup) and Truvia brand stevia sweetener*** Also, since the Nutrition Facts didn't include some things, each cookie has 56 calories, 3g Fat, 2g S. Fat, 7g Carbs, 2g Fiber, 4g Sugar, 2g Protein, and 76mg Sodium."
Ingredients
2 tablespoons unsalted butter, room temperature

1/2 cup applesauce, natural

1 teaspoon vanilla extract

3 egg whites ( 9 Tbsp liquid egg whites)

1 1/2 cups light coconut milk ( I use So Delicious brand)

1/4 cup coconut sugar

1/4 cup stevia, replaces 1/4 C sugar ( I use 6 packets Truvia)

1 cup coconut flour

1/2 teaspoon baking soda

1/4 teaspoon xanthan gum

1/2 teaspoon salt

3/4 cup semi-sweet chocolate chips ( a little less than half a 9oz bag)
Directions
1. Preheat the oven to 375°F.

2. Line two cookie sheets with parchment paper and set aside.

3. In a small bowl, stir the coconut flour, baking soda, xanthan gum, and salt together.

4. In a large bowl, beat together the butter, vanilla extract, egg whites, applesauce, & coconut milk. This mixture will seem way too watery at first but don't worry, coconut flour sucks up moisture and needs this much liquid.

5. Pour the dry ingredients into the wet and stir until well combined.

6. Stir in the chocolate chips.

7. Scoop by the tablespoon onto the cookie sheet, then flatten out the balls with your fingertips. These cookies won't spread while baking so flatten them to the size you want the final product to be.

8. Bake for 15-20 minutes until lightly brown. Makes 30 cookies.