Inside out Spring Roll Salad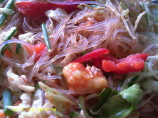 Photo by Dienia B.
Prep Time: 20 mins
Total Time: 20 mins
Servings: 6-8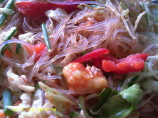 Photo by Dienia B.
About This Recipe
"If you enjoy the fresh flavors and satisfying crunch of a spring roll, wait until you see this recipe contest winner created by Roxanne Chan. This salad combines a variety of the fresh vegetables found inside spring rolls and dipping sauces served alongside and brings them into the salad bowl. The salad is light, fresh, colorful and tasty salad perfect for spring or summer!"
Ingredients
Salad

2 ounces bean thread mung bean noodles

3 cups shredded napa cabbage

1 cup torn watercress

1 carrot, cut into matchstick thin strips

1/2 cup seedless cucumber, cut into matchstick thin strips

1/2 cup red bell pepper, cut into matchstick thin strips

1 green onion, minced

1 cup chopped baby corn

2 tablespoons snipped cilantro

2 tablespoons snipped mint

Dressing

1 tablespoon sesame oil

2 tablespoons sweet chili sauce

2 tablespoons lime juice

1 teaspoon soy sauce

1 teaspoon minced gingerroot

1 large garlic clove, crushed

1/2 teaspoon lime zest

garnish- black sesame seed
Directions
Soak the bean threads in warm water to cover for 10 minutes or till pliable. Drain, then cook in boiling water till the noodles expand and appear glasslike, 1-2 minutes. Drain, rinse with cold water and drain again. Cut into 4-inch lengths.

Place in a large bowl along with the rest of the salad ingredients.

In a small bowl whisk together the ingredients for the dressing till well combined; toss with the salad to evenly coat.

Garnish with sesame seeds.