Pomegranate (or Cranberry) Gelatin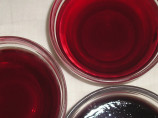 Photo by Jenny Sanders
Prep Time: 5 mins
Total Time: 7 mins
Yield: 2 Cups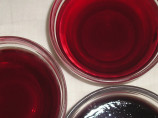 Photo by Jenny Sanders
About This Recipe
"A new flavor of gelatin :) Prep time is for using prebottled pomegranate juice, and does not include chilling time."
Ingredients
2 cups cold pomegranate juice or 2 cups cranberry fruit juice ( or juice blend)

1/4-1/3 cup sugar ( depending on juice tartness)

1 envelope unflavored gelatin ( I use Knox brand)
Directions
Heat 1 cup fruit juice in small saucepan until it just simmers, do not cook for any length of time.

Turn off heat and stir in sugar, if using.

Place remaining 1 cup cold juice in a medium bowl and sprinkle with gelatin, stir, let sit for 2 minutes and stir again.

Add warm juice to cold juice, stir, and pour mixture into an 8 x 8-inch pan.

Refrigerate until firm (about 4 hours), and cut into cubes.