Healthful Homemade Coffee Creamer With Flavor Options!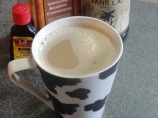 Photo by Muffin Goddess
Prep Time: 5 mins
Total Time: 15 mins
Serves: 36, Yield: 36 tablespoons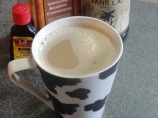 Photo by Muffin Goddess
About This Recipe
"I found this on thenakedkitchen.com after searching for an alternative to all the nasty chemicals in store-bought liquid coffee creamer. The recipe calls for condensed milk... if you truly want to go homemade all the way, search food.com for Homemade Condensed Milk! (Homemade Condensed Milk!) and use that. Also, there are multiple flavor options available to add to the base, see the directions for the options."
Ingredients
1 1/4 cups condensed milk ( I use food.com recipe # 477375)

1 cup milk, of your choice ( almond, oat, soy, hemp, or regular milk work)

1 -2 tablespoon artificial sweetener, of your choice ( optional, I use agave syrup)

1/2 teaspoon cornstarch ( optional, depending on the milk that you use, you might want to thicken your creamer. Guar gum, arro)
Directions
In a medium saucepan over medium heat whisk together the condensed milk, milk of your choice and sweetener (if using).

Add in optional thickener at this time if needed.

When the mixture begins to steam, remove from heat and add in any of the optional flavor ingredients.

Stir well and transfer to a sealed glass bottle and store in the fridge until ready to use.

*****Flavor Options*****.

Pumpkin Pie Spice – 1/4 tsp pumpkin pie spice and 3 tbsp pumpkin puree (not pumpkin pie puree).

French Vanilla – 1 tbsp vanilla extract.

Chocolate – 1 tbsp vanilla and 3 tbsp cocoa powder.

Amaretto – 1/2 tsp cinnamon and 1 tsp almond extract.

Cappuccino – 1 tsp almond extract and 1/2 tsp orange extract.

Cinnamon Strudel – 1/2 tsp vanilla, 1 1/2 tsp cinnamon and 1 tsp almond extract.

Peppermint – 1/2 tsp peppermint or mint extract.

Hazelnut – 1/2 tsp hazelnut extract.