Cream of the Crop Celery Soup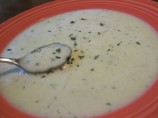 Photo by *Parsley*
Prep Time: 10 mins
Total Time: 35 mins
Yield: 5 cups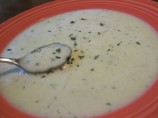 Photo by *Parsley*
About This Recipe
"Homemade soup that doesn't take all day to cook! With the addition of Brie cheese, this soup is a winner!"
Ingredients
1/4 cup sliced green onion

1/4 cup chopped onion

1 1/2 cups chopped celery & leaves

1 1/2 tablespoons butter or 1 1/2 tablespoons margarine, melted

1 1/2 cups water

1 cup chicken broth

1 medium potato, peeled and diced ( 1 cup)

4 1/2 ounces brie cheese

1 cup milk

1/2 teaspoon salt

1/2 teaspoon white pepper

1 pinch dried marjoram
Directions
Saute onons and celery in butter in a Dutch oven until tender.

Add water, broth, and potato; cover and cook over low heat 15 minutes or until potato is tender.

Pour half of soup mixture into container of an electric blender; process until smooth.

Repeat procedure with remaining mixture, returning pureed mixture to Dutch oven.

Remove skin from Brie; add Brie, milk, and remaining ingredients to Dutch oven.

Cook over medium heat, stirring constantly, until cheese melts and soup is thoroughly heated.

Yield: 5 cups.