Sweet Potato Sourdough Fritters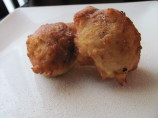 Photo by under12parsecs
Prep Time: 5 mins
Total Time: 20 mins
Servings: 6-8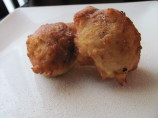 Photo by under12parsecs
About This Recipe
"Good way to use up leftover baked/mashed sweet potatoes. I love them with a bit of honey. You could make a more savory version by omitting the sugar and cinnamon and adding a couple of T of minced onion."
Ingredients
1 cup all-purpose flour

1/2 teaspoon baking soda

1/2 teaspoon salt

1/2 cup nonfat dry milk powder

2 eggs

1 cup sourdough starter

1 small sweet potato ( leftover, baked or boiled and somewhat mashed)

1/2-1 teaspoon cinnamon

1 tablespoon sugar

vegetable oil ( for deep frying)
Directions
In a medium bowl, stir together flour, baking soda, salt, sugar, cinnamon and milk powder: set aside.

In a large bowl, beat eggs. Stir in sourdough starter abd sweetpotato. Stir in flour mixture until just moistened; set aside.

Pour oil 3 inches deep in a medium skillet. Heat to 375 degrees. At this temperature, a 1 inch cube of bread will turn golden brown in 40 seconds.

Carefully drop batter by small Tablespoons full into hot oil. Fry 2 to 3 minutes on each side or til golden brown, turning once. Drain on paper towels. Sprinkle with cinnamon sugar. Serve hot with honey and butter if desired.