Sweet Petite Potato Peppers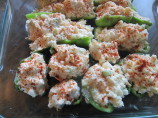 Photo by RedJim
Prep Time: 35 mins
Total Time: 35 mins
Servings: 20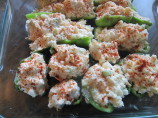 Photo by RedJim
About This Recipe
"I am always creating something new in my kitchen, so when I stumbled upon the french onion potato salad idea, I decided to take it to the next level with serving a Tbsp. on half of a mini pepper. It is a perfect balance of sweet and savory, one perfect bite of cold flavors that will be perfect for any family reunion or warm summer picnics at the beach or park this summer. You can dress these up with bacon bits, crab, shrimp, or put your own twist on them. :)"
Ingredients
3 large red potatoes, peeled with some skins left, quartered

10 sweet mini bell peppers, seeded and cut in half lengthwise

1 cup sharp cheddar cheese

1/2 cup celery, finely chopped

1/2 cup finely chopped red onion

1 hard-boiled egg, chopped

1 cup French onion dip

1 cup mayonnaise

1 teaspoon salt

1 teaspoon pepper
Directions
Boil potatoes in pot of 6 cups water, until fork tender, drain the potatoes, place in mixing bowl.

Separate bowl mix mayo and french onion dip, salt, and pepper.

Combine dip mix to potatoes, begin to mash, leaving some chunky consistency.

Toss onions, cheese, celery and eggs.

Sample potato salad, you may want to add more salt or mayo, depending on your flavor.

Begin to spread on the skins of the peppers, line them in any fashion on a serving tray. You should have 20 pepper slices to serve.

Cool for one hour in the refrigerator. If you plant to take these on a picnic, line them in a plastic rectangular container or place them on a plate with plastic wrap over ice.