Simple Peppery Sweet Ham Steak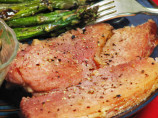 Photo by Kerfuffle-Upon-Wincle
Prep Time: 3 mins
Total Time: 15 mins
Servings: 4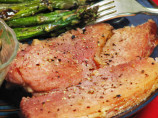 Photo by Kerfuffle-Upon-Wincle
About This Recipe
"Pan seared ham steak is one of the simplest meats to prepare! Quick too!"
Directions
Open ham steak package and drain off any liquid in the package.

Add ham steak to a hot iron skillet ~ sprinkle generously with coarsely ground black pepper.

Sear both sides over medium-high heat, cooking off all liquid.

Sprinkle one tablespoon raw sugar over hot ham steak ~ continue searing for about one minute while sugar melts. Turn over, then over again, searing both sides, browning slightly!

Turn off heat, and wait about 5 minutes before cutting into serving pieces.