Grilled Steak Tacos With Chipotle Cream and Chimichurri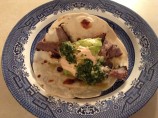 Photo by Vicki in CT
Prep Time: 20 mins
Total Time: 32 mins
Servings: 3-4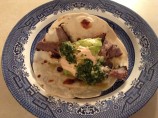 Photo by Vicki in CT
About This Recipe
"Recipe from Cooking Channel - Kelsey Nixon. Haven't tried it, but it sounds so delicious! A great Tex-Mex recipe with a Cilantro Chimichurri twist. Prep time does not include marinating time for meat."
Ingredients
For the Chimichurri

1 small bunch fresh cilantro ( leaves only)

1/2 medium yellow onion

fresh lime juice ( juice from 1 1/2 limes)

1/2 teaspoon crushed red pepper flakes

For the Chipotle Cream

For the Tacos

6 small flour tortillas, warmed ( fajita-size)

1 lb skirt steak ( or flank steak)

7 garlic cloves, divided

1 teaspoon Dijon mustard

1/4 cup olive oil

2 tablespoons olive oil

1/3 cup red wine vinegar

2 tablespoons red wine vinegar

kosher salt

fresh ground black pepper
Directions
For the Chimichurri: While the steak rests, place the cilantro leaves, onion, 4 cloves garlic, juice of 1 lime, and 1/3 cup vinegar to a blender and puree until combined. With the blender on low speed, drizzle in the 1/4 cup olive oil in a low stream. Remove the sauce from the blender and stir in the red pepper flakes and salt to taste.

For the Chipotle Cream: Combine the sour cream, chipotle pepper, adobo sauce, juice of 1/2 lime, and a pinch of salt.

Place the steak, 3 cloves garlic, 2 tablespoons each olive oil and red wine vinegar, 1 teaspoons salt, 1/2 teaspoons black pepper, and dijon mustard in a resealable bag. Rub the ingredients into the meat and place in the refrigerator to marinate 2 hours.

After 2 hours, remove the meat from the bag and pat dry to remove any excess moisture. Lightly season both sides with salt and pepper. Set aside.

Spray an indoor, stovetop grill with nonstick cooking spray and preheat on medium-high heat. Place the steak on the preheated grill and grill about 6 minutes per side for medium rare. After grilling the steak, cover with tented foil and allow to rest for 10 minutes before thinly slicing across the grain.