Simply Amazing Rice Pudding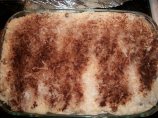 Photo by ElizabethKnicely
Prep Time: 15 mins
Total Time: 1 hr 5 mins
Servings: 12-16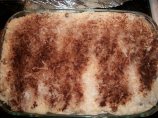 Photo by ElizabethKnicely
About This Recipe
"I got this recipe from a blogspot called "Mysterious Bolivia". I have no idea whether Bolivia is any more mysterious than the rest of the planet, but judging by this recipe, they sure can cook there! I used the whole can of coconut milk, on the theory that there's no such thing as too much coconut. I use basmati rice. Be forewarned: this is rich, rich, rich!"
Ingredients
1 lb rice

4 cups water

1 stick cinnamon

1 (15 ounce) cans evaporated milk

1 (12 ounce) sweetened condensed milk

1 cup whole milk

0.5 (15 ounce) cans coconut milk

1/2 cup raisins

1/2 cup sliced almonds

1/2 cup walnuts ( pieces)

3 tablespoons flaked coconut

5 whole cloves

1 stick cinnamon

1 pinch salt

ground cinnamon, and whipped cream for garnishing (optional)
Directions
Put the 4 cups of cold water and the rice in a pot to soak for 10 minutes.

At high heat add to the pot the cinnamon stick, cloves, salt, coconut milk and wait 5 minutes after it starts boiling.

Turn the burner to low and stir with a wooden spoon being careful not to let any thing stick to the bottom of the pot.Add the condensed and evaporated milk, coconut milk, let boil for about 10minutes more until it thickens, stirring time to time.

Add raisins, Almonds, Walnuts and regular milk, stir with a wooden spoon.

Wait 5 more minutes and remove the mixture from the heat and put in a deep baking dish.

Carefully remove the cinnamon stick.

Sprinkle the top with ground cinnamon and coconut flake, cover the dish with foilpaper, set in the oven, and bake for 20 minutes at 325°F.

Serve in individual cups , use ground cinnamon and whipped cream for garnishing serve with wafers.