Chocolate Cup/Cakes With Fluffy Peanut Butter Marshmallow Frosti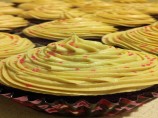 Photo by MrsCourtneyHunter
Prep Time: 20 mins
Total Time: 40 mins
Serves: 18-24, Yield: 24 cup cakes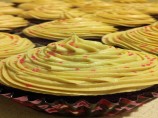 Photo by MrsCourtneyHunter
About This Recipe
"This is a wonderful recipe that was given to me by a friend years ago. The cake and frosting are easy to put together in less than an hour. The cake is moist and chocolatey and the frosting complements it well with a light peanut butter flavor."
Ingredients
Cake

1 (517.37 g) package devil's food cake mix ( any chocolate cake mix will do)

1 (167.26 g) package instant chocolate pudding mix ( I use sugar free)

236.59 ml sour cream ( low fat is fine)

236.59 ml unsweetened applesauce

14.79 ml vegetable oil or 14.79 ml canola oil

4 eggs

59.14 ml coffee, if you don't have coffee add water instead ( instant or brewed)

59.14 ml milk

4.92 ml vanilla (optional)

118.29-236.59 ml semi-sweet chocolate chips ( I like mini and it's optional)

Frosting

1 (198.44 g) jar marshmallow creme ( 1 cup)

118.29-177.44 ml peanut butter ( use more if you want more peanut butter taste)

78.07 ml butter or 78.07 ml margarine, softened

2.46-4.92 ml vanilla extract

354.88 ml confectioners' sugar

14.79-29.58 ml milk
Directions
Cake:Preheat oven to 350 degrees F (175 degrees C).

In a large bowl, mix together the cake and pudding mixes, sour cream, applesauce, oil, eggs, coffee/water, milk, and vanilla. Stir in the chocolate chips.

Fill pan: 2 round cake pans, 1 bunt pan, or 24 cup cakes. **For cup cakes, spray or use liners and fill each with one level ice cream scoop, it makes the perfect amount.

Bake for 50 to 55 minutes for cake or 20-25 min for cupcakes. It is done when the top is springy to the touch and a wooden toothpick inserted comes out clean, test twice because you might have hit a chocolate chip the first time. Cool cake thoroughly in pan at least an hour and a half before inverting onto a plate and frosting.

Frosting:In small bowl with mixer at low speed (or by hand), combine marshmallow creme, peanut butter, butter, and vanilla until blended.

Increase speed to medium (or keep mixing by hand) and add confectioners' sugar and milk, adding just enough milk to make frosting smooth and spreadable.