Hungry Girl Club Quesadilla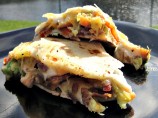 Photo by diner524
Prep Time: 5 mins
Total Time: 10 mins
Servings: 1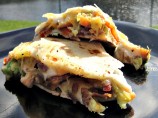 Photo by diner524
About This Recipe
"So tasty but so easy on the calories and fat. This is 8 Weight Watchers points plus and so worth it! This is good for lunch or a quick dinner."
Ingredients
1/4 cup onion, chopped

1/4 cup bell pepper, chopped

2 teaspoons fat free ranch dressing

1/8 teaspoon hot sauce

1/2 ounce avocado, mashed ( about 1 tbsp.)

1 dash each chili powder, ground cumin, and garlic powder

1 medium-large high-fiber flour tortilla ( with 110 calories or less, like the kind by La Tortilla Factory)

1/4 cup fat-free cheddar cheese, shredded

2 ounces chicken breasts, cooked and chopped

2 slices turkey bacon, cooked crisp

Optional
Directions
Bring a large skillet sprayed with nonstick spray to medium-high heat. Cook and stir onion and pepper until softened, 3 - 5 minutes. Remove from skillet and set aside.

In a small bowl, mix ranch dressing with hot sauce. In another small bowl, mix avocado with chili powder, ground cumin, and garlic powder.

Lay tortilla flat and spread avocado mixture on one half of the upward-facing side. Evenly top avocado with 2 tablespoons cheese, followed by the chicken, bacon, and cooked veggies. Top with ranch mixture and remaining 2 tablespoons cheese.

If needed, clean skillet. Re-spray skillet and return to medium-high heat. Place the half-loaded tortilla flat in the skillet and cook for 2 minutes. Fold the bare half of the tortilla over the filling with a spatula and press down lightly to seal. Carefully flip and cook until crispy, about 3 minutes.

Slice into wedges, and if you like, serve or top with sour cream and salsa!